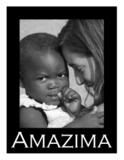 Last night as the girls and I were driving home from dance class, I told the girls about an amazing blog I'd found recently. This blog is about a young mom named Katie. When I say young, I mean REALLY young, especially when you consider the 14 girls she's raising.
The summer between high school and her freshman year in college, Katie went on a one year mission trip to Uganda to teach kindergarten in an orphanage. Within that year, she becomes foster mama to several children. She is 18 years old. At the end of that year, she returns to the U.S. to fulfil the promise she'd made to her parents, and starts college. She lasts one semester, then knows she must go home. She returns home to Uganda where she continues to work and care for her little household, and continues working for the ministry. That little household is now 14 girls big. She is 21.
Ellie was so moved by this story that she cried, and so did I, as I told them about it. This afternoon Ellie came to me with a handfull of money. A few bills and change. "Mama, this is half my piggy bank!" She wants to send it to Katie, so she can feed her babies.
So, we did. I know $4.03 is not a lot of money, and I'm sure the guys at paypal are scrtatching their heads at the amount, but that is a month's income for Ellie. That is half of all the money she has. I'm so proud of her!
If you are interested in reading Katie's story in her own words, and see her beautiful girls, you can
visit her blog here
.